Q
Can I pick a holiday theme for my quarterly Container Garden plantings?
A
Yes you can. Every Bloomin' Thing will be happy to accommodate your wishes to celebrate holidays or special themes. Just contact us in advance and we can discuss and enable your holiday celebrations.
Q
How am I billed for my quarterly subscription?
A
A subscription contract is signed for a year's duration with a set price. You will be billed once per quarter after each installation is completed. Initial set up work (i.e. container cost, drip irrigation materials) are billed as a part of the first planting installment.
Q
If I have an existing automated drip irrigation system can I use that for the Container Gardens I would like installed?
A
We will make every effort to use your existing system to save you money on your order. We may have to add some irrigation materials in some cases to provide a functioning system and depending on the plants and flowers used in your installation.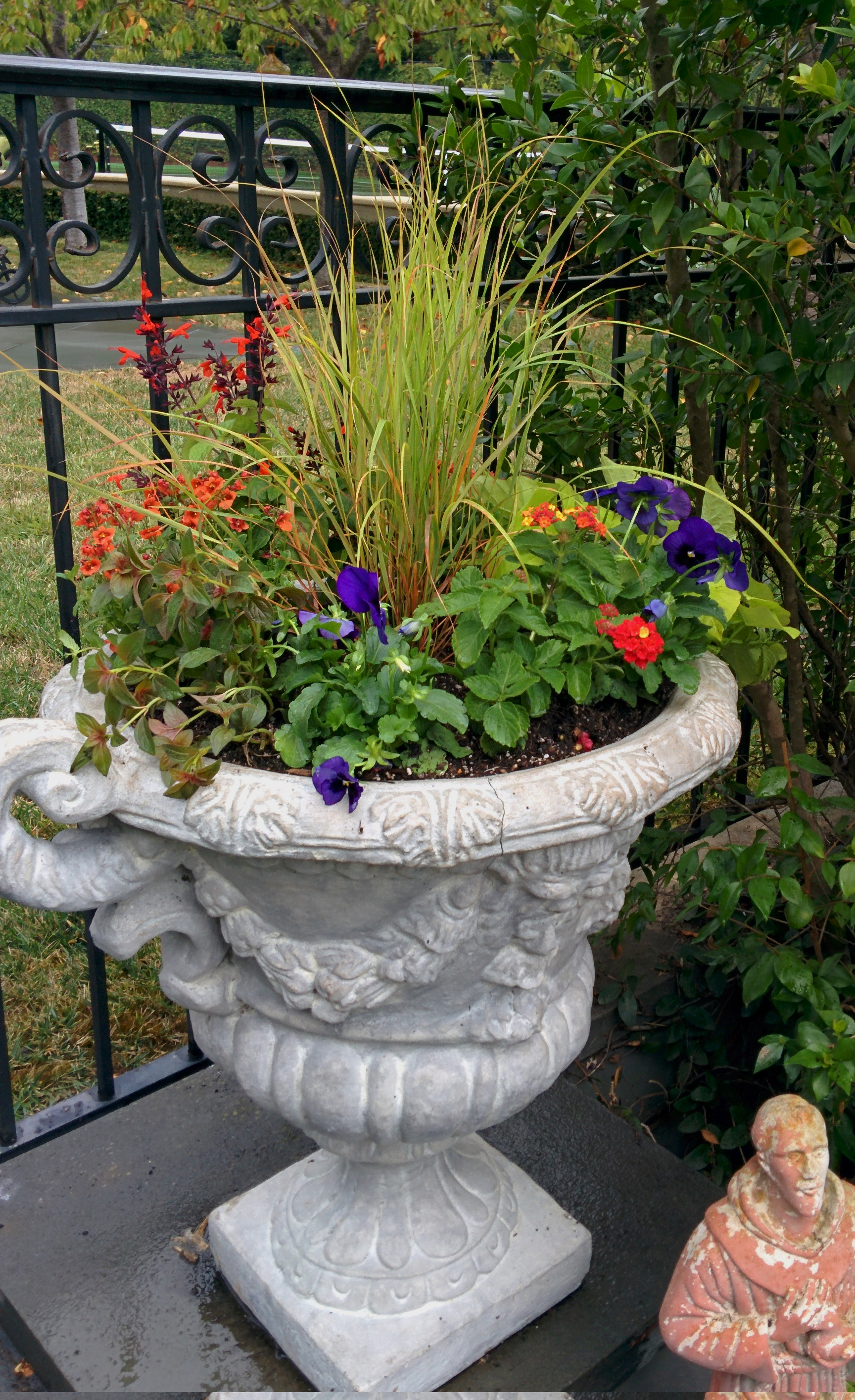 Q
I live in an apartment or retirement community and miss my garden. I would like to have something growing on my patio or balcony. Do you install flowering or vegetable gardens in places like this?
A
Yes we do! Some of our happiest clients live in places that have little or no access to native soil. And if you have a water supply nearby, we can set your balcony or patio container gardens up on an automatic drip system.
Q
Do you build raised beds and install vegetable gardens?
A
Yes, we can have a raised planter bed built to fit your site. We use only untreated wood for environmental safety and double bolts with inside cross-beams for strength and durability. If size requires it, they can be made tall enough to minimize bending and with a width that allows easy access to your plants. These beds are fitted with a seat rail so you can do your gardening in comfort. We will then fill your planter bed with a natural blend of soil and compost. Finally, we will plant only organically grown vegetables that are suited to your climate and taste.
Q
Who harvests the vegetables?
A
That is entirely up to you. You may choose to pick your own crops, or you can have us do it. Either way, the vegetables that you grow belong to you. You and your family will be eating locally grown, organic produce that is fresh and leaves almost NO carbon footprint!
Q
What happens if the plants fade or die soon after they are installed? Will Every Bloomin' Thing replace them?
A
Yes! We will come out, correct the reason for the problem and, as long as there is a functioning drip irrigation system, we will replace the plants for free.